Suffolk boasts many characterful village pubs where welcoming hosts provide great food. Across the county you will find first-class restaurants with award-winning chefs. Our cafés and farm shops specialize in locally sourced produce, meat and fresh fish. Even off the beaten track, you are sure to find somewhere that will cater to your tastes. Here's a selection of our favourites.
THE VALLEY RESTAURANT at FYNN VALLEY GOLF CLUB - on site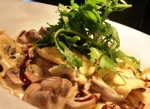 Delicious locally sourced food offering a menu to suit all tastes, The Valley conveys a message of delicious food, freshly prepared, that is both local and sustainable.

THE FOUNTAIN at TUDDENHAM - a 20min stroll along the valley.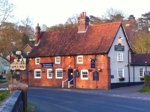 An informal bistro style restaurant set in an oldie worldy 16th Century pub offering great food, great service & great value. The Fountain is the place to be, with their extensive modern menu which changes often using seasonal produce within a relaxed, friendly atmosphere. Walkers are always welcome. Children are welcome during the day and evenings before 6.30pm.

THE WESTERFIELD SWAN, Westerfield - IP6 9AJ/0.5m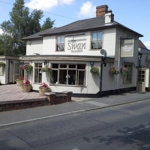 The Swan is a great place to enjoy a range of wines, ales and delicious food in a great atmosphere.Families welcome.

THE MOON & MUSHROOM, Swilland - IP6 9LR/2.6 m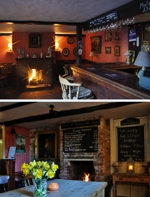 This award-winning sixteenth-century pub serves cask ales from the barrel. The menu is based on home-made dishes using ingredients sourced from local suppliers. http://www.themoonandmushroom.co.uk

THE SALTHOUSE HARBOUR HOTEL, Ipswich - IP4 1AX/3.6 m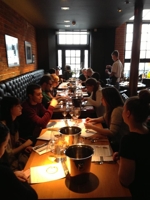 A popular restaurant on the waterfront. Dishes are modern with a twist, drawing on fresh local produce from Suffolk smallholders and independents.

THE GRUNDISBURGH DOG, Grundisburgh - IP13 6TA/ 5.1m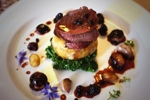 The Grundisburgh Dog  pride themselves on serving good honest locally sourced and well cooked food in a relaxed atmosphere.

THE CROWN, Woodbridge - IP12 1AD/10.1 m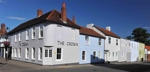 Reworked classic favourites, comfort food and more modern inventive dishes plus a simple bistro-style prix fixe menu. 

LOCH FYNE AT MORTIMERS Ipswich - IP3 0AE/ 3.7 m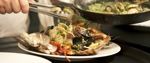 Close to the Ipswich waterfront, Loch Fyne offers a selection of freshly prepared fish and shellfish from sustainable sources as well as Scottish-reared meat dishes and vegetarian choices.

MILSOMS Kesgrave - IP5 2PU/ 6.9 m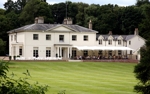 Guests enjoy 'global' cuisine, with a menu reflecting influences from all over the world, as well as daily specials that take full advantage of local, seasonal produce. The terrace is heated all year round so that diners can make the most of the garden view.

BUTLEY ORFORD OYSTERAGE Orford - IP12 2LH/ 21.9 m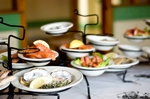 Predominantly a fish restaurant, the Oysterage serves oysters, smoked delicacies, local fresh fish and shellfish as well as fish dishes from all over the world in a simple and uncomplicated setting.

REGATTA Aldeburgh - IP15 5AN/ 27.2 m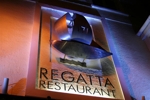 From April to September the emphasis here is on locally caught fish and seafood, although vegetarian, poultry and meat dishes are available all year round. Lobster week is 8-13 July; 9-14 September ushers in Moules, frites and Belgian beer week. See the website for a full list of culinary events. 

LADY FLORENCE Orford - IP12 2LJ/ 21.8 m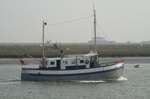 The Lady Florence was built in 1944 as an Admiralty MFV supply boat. Setting off from Orford Quay regardless of weather and tides, the restaurant serves morning brunch, à la carte lunch, dinner and sunset cocktail cruises. Cruises cover an area rich in wildlife and history, including a circumnavigation of the RSPB's bird sanctuary on Havergate Island.

THE CROCKERY BARN CAFÉ Ashbocking - IP6 9JS/ 4.33 m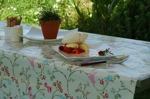 Freshly cooked simple food in a peaceful location. Daily specials drawn from seasonal food, and delicious cakes. Adjacent to The Crockery Barn shop where you can persure the wonderful selection of tableware, homeware, gifts, ceramics, textiles and more.

THE BRITISH LARDER Bromeswell - IP12 2PU/ 12.5m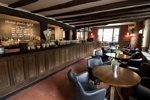 A fine-dining pub run by two chefs with a passion for local ingredients (who also write a recipe blog which has been described as "a gift to foodies").

FISH AND CHIPS
ALDEBURGH FISH AND CHIP SHOP - IP15 5AR/ 27.1 m
Famous beyond Aldeburgh, this is a chippie that lives up to the hype. Long queues on Bank Holidays so arrive early. Great ice-creams from Ives just down the high street, too. www.aldeburghfishandchips.co.uk